$S has been the subject of lots M&A speculation since announcing interest in such a deal.
$TMUS and $CHTR have been the primary targets mentioned in mainstream stories, but neither makes sense.
$ERIC may be the true target and mainstream financial news may have slipped with a tip-off.
Timeline of news on $ERIC vs that of $S is oddly fitting
Sprint ($S), a telecommunications company of which Softbank ($SFTBY) owns 80% of, has been in and out news cycles about a possible merger or acquisition for most of the year.
This years' hype began on February 17th, 2017, when Reuters reported that Softbank was looking to sell their equity in Sprint to Deutsche Telekom, the parent company of $TMUS.
Sprint had been amidst a long stretch of missed earnings reports. In fact, this past quarter's earnings report (FQ2 '17) for the company was the first profitable one in three years.
Months prior to the announcement and the return of $S to profitability, AT&T ($T) had announced their intention to acquire Time Warner ($TWX) for $85.4 billion dollars (October 2016).
Such a move would've set an already unprofitable company ($S) into a worse position than they were already in. Notably, one that would only set them up for further losses.
What AT&T Buying Time Warner means for AT&T
The impact of a deal between $T and $TWX would've (and may still) elevate the advertising revenue $T can earn. It's a grouping of big data; more ways to track individual consumers and advertise to them. The following is an excerpt from Vanity Fair feature published online a few days ago (October 7th) featuring the CEO of AT&T, Randall Stephenson.
AT&T's $85.4 billion takeover of Time Warner is expected to receive its final federal regulatory clearance within a few months. Speaking Wednesday at Vanity Fair's New Establishment Summit in Los Angeles, Stephenson said the combined company will benefit from the marriage of data mined from DirecTV and AT&T's wireless services with the enormous advertising inventory sold annually by the Turner cable networks.

Stephenson told moderator Stephanie Mehta that DirecTV is able to command advertising rates two to three times the rates that Turner now receives because the satcaster is able to offer highly targeted audience data to advertisers. Turner nets will be able to capitalize on the data to offer programmatic buys and other advanced advertising formats to high-end marketers.

"If we can bring to traditional media what is happening in the digital world, you can have a real profound impact," Stephenson said.
Why $S Isn't Looking For A Deal Like $T's
Sprint doesn't derive revenue from advertising; they derive it almost strictly from their wireless services. The fastest growing revenue segment these past years has been in the equipment department.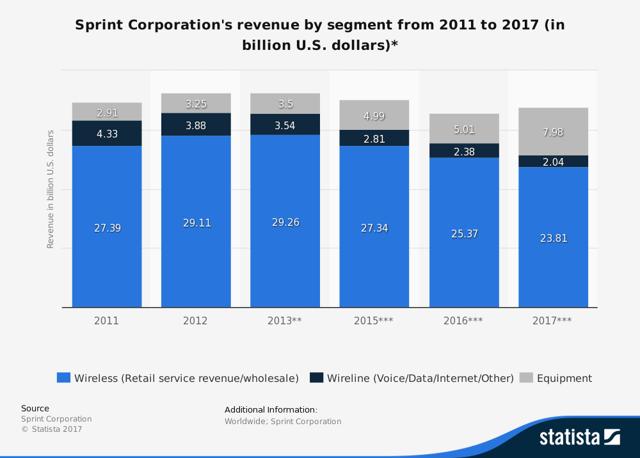 [Source: Statista: Sprint Corporation's revenue by segment from 2011 to 2017 (in billion U.S. dollars)]
AT&T's acquisition with $TWX was proposed after they already sunk money into DirecTV, so they already had a targeted marketing revenue sector to work with and grow without having to spend much more for the advertising integrations. $T would have to build them from scratch.
That's why that whole $CHTR talk never panned out.
Their wireless revenues are clearly the ones which have taken the biggest hit based on the chart above, so a $CHTR deal or even a $TMUS deal doesn't make much sense.
But Why?
MarketForce put out an online survey in May of this year, and here's what they found about what consumers thought of various carriers.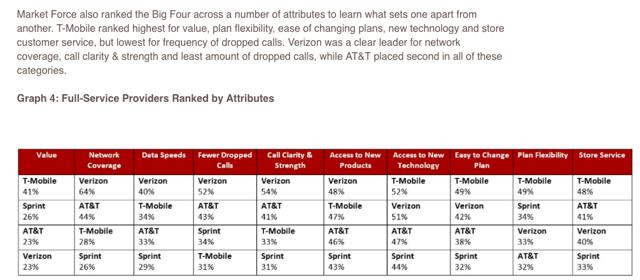 Clearly, it's their coverage (including data speeds and call clarity) that are their poorest performers. Dropped calls are the only thing $S seems to outperform $TMUS at; so why would $TMUS take on all the cost of the infrastructure rebuilding they'd need to do for Sprint if they merged subscriber bases? They're already winning the battle.
That's why that deal never made sense to me.
The most recent headlines vary between Bloomberg's "Sprint and T-Mobile Are Ironing Out Final Deal Details" and "T-Mobile, Sprint deal talks moving forward, but some not happy with price: Sources"
Gotta love when there's no name attached to sources on such issues. Who are the "some shareholders"? Some kids with 10 shares? Though, as noted with the expenses, I wouldn't be happy with the pricing either.
Then This Happened: Enter Ericsson $ERIC.
I trade using unusual options activity as an indicator..and I noticed some unusual call purchasing starting to pour into Sprint before their earnings. They did very well on the report and the stock popped. So perhaps those were earnings plays. Then, despite announcing during their earnings call that a merger deal of some sort was very close to happening, the options market quieted down.
Then two weeks ago, things started to pick up. Big bets with call buying and put selling started dominating the tape. Orders like a $1.74 million buyer of November 17th expiry $8 Cs on September 29th…then things quieted down again and $S started drifting down.
I noticed an article in my thinkorswim news feed that mentioned $S and had been updated 6 times. So I checked it out.
What needs updating six times? 
The article was about former $S CFO, Joseph Euteneuerbeing, being brought on by Mattel. The correction they noted making was that his start date at a company called "Rivada Networks" hadn't been mentioned. That date was corrected to be in the Spring of 2016.
Rivada Networks, where Euteneuerbeing served as CO-CEO and CFO, works on cellular equipment. In 2012 alone, the company filed for three patents that can supposedly improve cellular networks. (*cough*Sprint needs that*cough*)
But even more important, is the deal established in that very same spring of 2016, between Rivada, Ericsson, Nokia and a few others in which the companies agreed to form "Rivada Mercury" to lay out a nationwide LTE network operating at the 700 MHz spectrum. This Network would be licensed to "FirstNet".
FirstNet is, in theory, a way for mobile carriers to allocate resources for better connection and service for first responders during times of crises. After seeing how this hurricane season has played out so far, having such a resource would be great. But it also opens the door for companies trading coverage amongst each other based on their needs at a particular location where another might have better coverage.
Think of it as oil futures…but for cellular network access priority. So $S could fix alot of its issues by turning to such a system.
The article also notes, "The group has also partnered with a major carrier, but hasn't disclosed the name due to the nature of the competitive process".
Drilling Some Other Factors
The article that had 6 edits also notes the following:
Mr. Euteneuer also held CFO roles at two companies before their mergers, Qwest Communications before its tie-up with CenturyLink Inc., and XM Satellite Radio before its merger with Sirius.
That article was published on October 3rd, on which this was also published: "Ericsson scouts for mergers for lower margin businesses".
I was lucky enough to have taken a screenshot of the $S news feed in Ameritrade to point out the changes on the 3rd. By nightfall the 4th, the article was literally removed from the TD news widget entirely.

Taken the 4th in the afternoon…

If you have thinkorswim, just pull up news for $S and see if it shows anything about these…here's what I see now…

The 4th, after that CFO article was deleted… a "market chatter" story was released implying bearishness.
On the 5th…"Ericsson to Cut 10% of Irish Workforce"
Then the 6th: "Ericsson launches 5G design center in Texas"
Apple ($AAPL) is also in on some patents with Rivada Mercury; and Apple just co-purchased Toshiba's chip unit. Rivada and IBM have developed their 5g design to be more chip dependent.

$AAPL recently committed several billion dollars to an investment fund run by Softbank, so it's safe to say they're fairly cozy. As they are with $S.
Wrapping It Up
After that article was deleted, $S stock was clearly being suppressed by taking a look at the money flow. I assume that's because they didn't want someone like me being snoopy and piecing together some dots.
Look at the money flow play with the 0 line. More time was spent with upward momentum and in the buy zone but some skillful traders kept it down all whilst accumulating.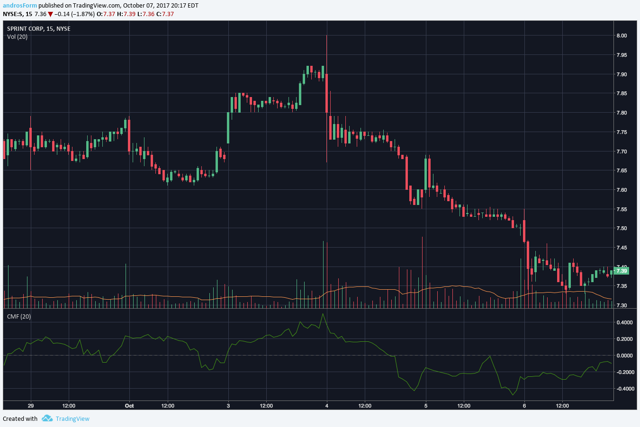 Meanwhile though showing upward pricing, $ERIC had more selling going on.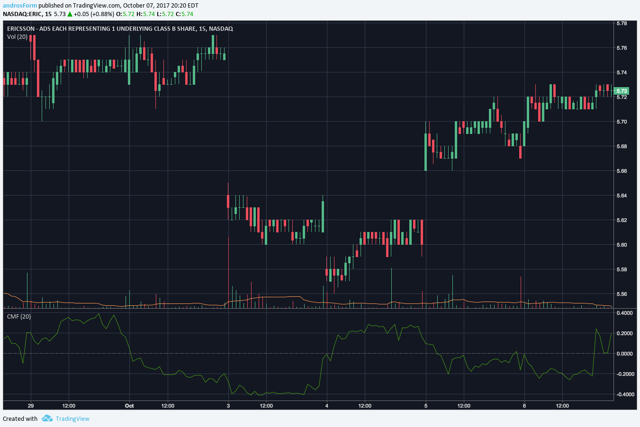 So, does any of this mean anything? I think it does…or it could be entirely circumstantial. Either way, be watchful of $ERIC and $S in the coming days/weeks. I think there are enough links there for it to the most sensical merger target for Sprint.